LET'S FLY BETWEEN SAN JUAN AND ST. THOMAS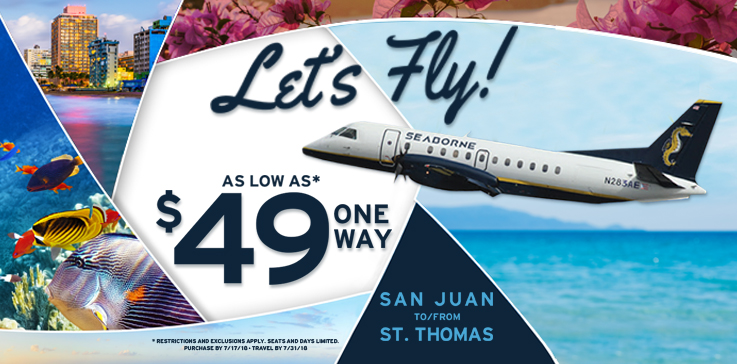 Take Advantage Of Our Fantastic Low Fare!
Fly Between San Juan and St. Thomas For As Low As $49 One Way*
Purchase Between July 11 thru 17, 2018   •   Travel Between July 18 thru 31, 2018
 
* Terms and Conditions:
Advertised fares are valid for new reservations only. Seats are limited and may not be available on all flights or all days.  Fares include all government taxes and fees. All fares are in U.S. dollars and are subject to change without notice; other restrictions apply. Some markets may not operate daily service. Bag fees apply to checked baggage. Size and weight restrictions apply, additional fees apply to check more than three bags or overweight or oversized items. These fares are nonrefundable. Any changes need to be done before the flight departs, or your reservation will be canceled and all value lost. Book at seaborneairlines.com.  A ticket purchased through a Seaborne reservation call center will cost $25 more per reservation than the advertised fare.
For additional information regarding travel see our Contract of Carriage.