Seaborne Travel Advisory—Hurricane Maria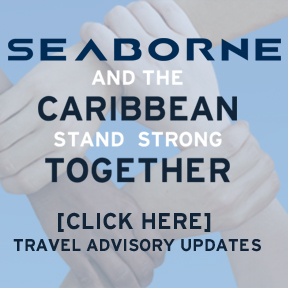 SEABORNE TRAVEL ADVISORY–Hurricane Maria
Due to the impending passage of Hurricane Maria, travel throughout the islands will be affected over the next several days. Safety of our passengers and crews is our top priority. Please see the following updates:
9- 18-17 • MONDAY
All scheduled Seaplane flights will be canceled in the afternoon
Flights between St. Croix and San Juan will remain scheduled for flight
All other scheduled flights are canceled
9-19-17 • TUESDAY
Morning flight between San Juan and St. Croix will remain scheduled, weather permitting
All other scheduled flights are canceled
9-20-17 • WEDNESDAY
All scheduled flights are canceled
9-21-17 • THURSDAY
All scheduled flights are canceled
9-22-17 • FRIDAY
All operations should return to normal by midday, conditions permitting
RESCHEDULING FLIGHTS
For passengers who wish to rebook their flights, a one-time no fee flight change will be available for passengers traveling the following dates:
Airport Passengers:
All destinations (other than St. Croix) Tuesday 9-19-17 until Friday 9-22-17
St. Croix Wednesday 9-20-17 until Friday 9-22-17
Seaplane Passengers:
Monday, 9-18-17 until Friday 9-22-17
Please contact our Reservations Department at:
reservations@seaborneairlines.com or 787-946-7800 • Toll-free 866-359-8784
Please continue to monitor local media and weather reports and we will be updating our flight status as we observe the progress of the hurricane.
Seaborne regrets any inconvenience caused by these delays/cancellations as a result of the passage of Hurricane Maria.
SEABORNE HURRICANE IRMA FEE WAIVERS 09-12-17
Due to impending weather forecasted in the Caribbean, we will waive fees and increases in fare for customers within the parameters below.
St. Maarten • St. Thomas • Tortola
Customers with tickets issued to travel Tuesday, September 5, 2017, through Saturday, September 30, 2017, to/from:
St. Maarten (SXM)

St. Thomas (STT)

Tortola (EIS)
Customers may rebook their flights for travel within 1 year prior to the departure time of their originally scheduled flight. Customers holding refundable fare tickets may request a refund to original form of payment. Original travel must have been booked on or before Monday, September 4, 2017.
Customers traveling to St. Maarten and St. Thomas also have the option to change to a different destination without fees, but an increase in airfare may apply.
Please contact Reservations Department at: Reservations@seaborneairlines.com, 787-946-7800 or toll-free 866-359-8784.
We thank you for your patience as we work through the aftermath to the Caribbean due to Hurricane Irma. Our thoughts and prayers are with those affected.
SEABORNE TRAVEL ADVISORY UPDATE: 09-07-17
Currently, we are receiving assessment reports from all our destination stations. At this time, our aircraft are cleared to relocate to San Juan and seaplane bases and we are working with destinations we serve to resume operations.  We will begin operations tomorrow with a limited schedule.  We will be updating our schedule soon and sharing extra flights that will be operating.