Silver Airways Acquires Seaborne Airlines to Create Leading Independent Airline Serving the Caribbean, Bahamas, Florida, and Beyond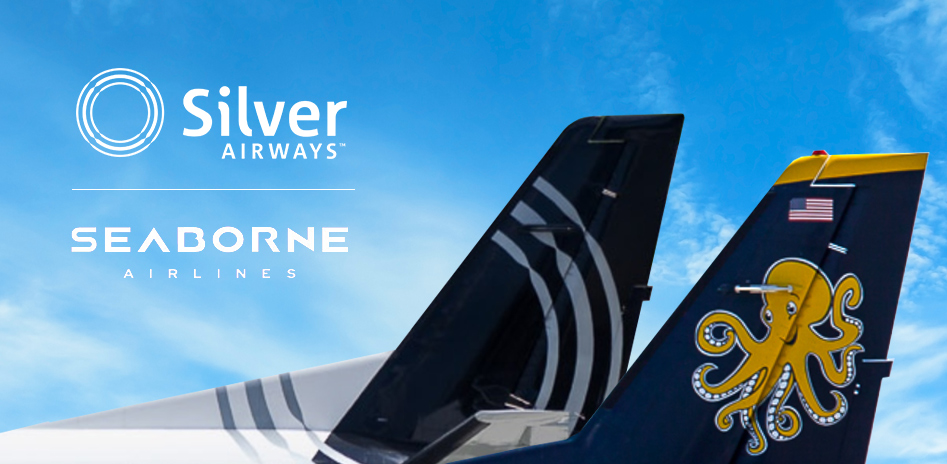 Silver and Seaborne, together, means more fun in the sun!
As the saying goes, sometimes the whole is greater than the sum of its parts, and the combination of Silver Airways and Seaborne Airlines proves it! Fun-seeking and business travelers alike have more flight options than ever for visiting the Caribbean, the Bahamas, Florida and beyond. Both airlines will continue to operate as they have in the past, with their own reservations, booking and loyalty programs remaining in place. Additionally, all codeshare partners and interline agreements remain unchanged. Silver's acquisition of Seaborne injects new excitement and energy into both, with travelers being the ultimate beneficiaries.
About Silver Airways
Silver Airways is proud to be Florida's First Airline. As the first commercial carrier founded in Florida and still operating today, Silver has the most routes within Florida and between Florida and the Bahamas than any other airline. From its hubs in Fort Lauderdale, Orlando, and Tampa, a few top destinations include Key West, Eleuthera, Marsh Harbour, and Huntsville.
About Seaborne Airlines
Seaborne Airlines, the largest Caribbean-based airline for 25 years, operates iconic seaplanes and an airport-based fleet, flying to islands throughout the Caribbean. From its hub in San Juan, Seaborne whisks travelers to amazing destinations like Anguilla, Antigua, Dominica, St. Croix, St. Thomas, Saint Maarten, Saint Kitts, Tortola and Nevis. It also specializes in short hops to tiny island wonderlands like Culebra and Vieques off the coast of Puerto Rico.
With so many choices, it might be difficult to pick one. So pick a few! We have them all mapped out in our Route Map below.
Check out where we fly and whether it's a Silver or Seaborne route, be ready to experience all the benefits of each, with the energy and excitement of both.