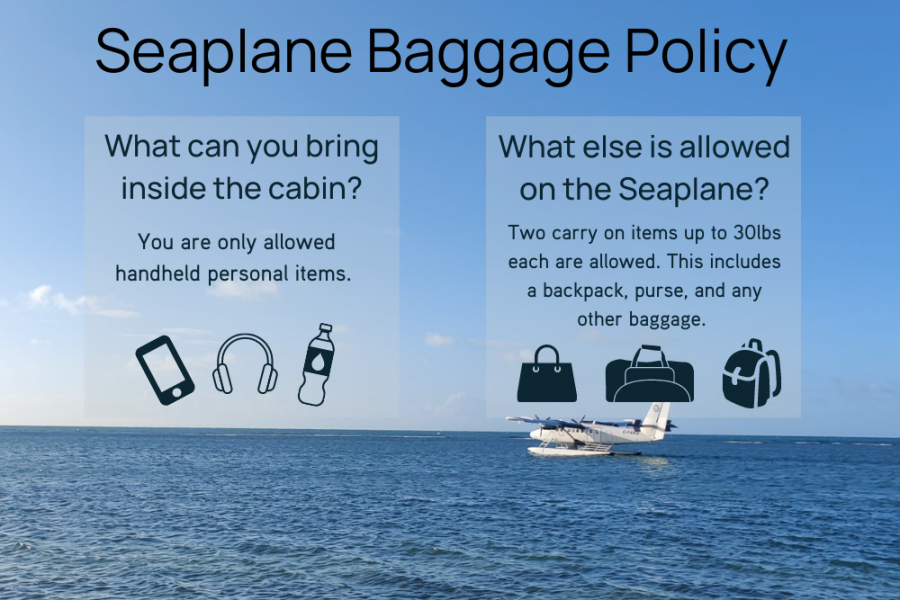 Seaplane Baggage Policy
What is allowed inside the cabin?
Only handheld items are allowed inside the cabin. This includes a water bottle, cellphone, and headphones. Any item that can fit in your hands is allowed inside. There are no overhead compartments on the seaplane.
What else can you bring?
You can bring up to two (2) baggage items on the seaplane. Each item can be up to 30lbs. These items can include backpacks, purses, and duffel bags. Before boarding the seaplane you will be asked to place your items in containers that are then positioned in the cargo hold of the seaplane.
Due to the size and nature of our aircraft, issues with weight and balance do arise. Seaborne Airlines assumes no responsibility for delayed baggage removed from a flight due to weight and balance safety concerns. See loss and delay section.
Your name, address, email and telephone number including area code, must appear on the outside of all baggage.
Baggage will not be checked:

To a city not on your routing
Beyond your next stopover city
Beyond your final destination city
Beyond a connection city if the connecting flight departs from an airport different from the arrival airport

Seaborne Airlines refuses to accept property as baggage which, because of its nature or characteristics will or may cause damage to other baggage; and any baggage
Checked baggage may be claimed only by the holder of the baggage claim check. Baggage will not be released unless all sums due Seaborne are paid. Baggage claim checks must be returned to Seaborne on request. Seaborne is not responsible to determine that the holder of the claim check is entitled to the baggage. If baggage claim checks are lost, proof of ownership may be required prior to the release of the baggage.
In the event your checked bags do not arrive on your flight, reasonable efforts will be made to ensure that the bag is returned to you within 24 hours. Our goal to return bags with 24 hours applies only when we are the carrier taking you to your final destination.
Listed below are some circumstances that may inhibit our ability to return your bags within 24 hours:

No local name/address/phone numbers are provided
You are located at a remote location or an unreachable address (i.e. a cruise ship or camping site)
You changed your delivery address but did not notify us
We have limited flight schedules to your destination
Operational circumstances prevent Seaborne Airlines from being able to locate or deliver your bags within this time frame.
The following baggage allowance and charges apply for travel on Seaborne Airlines
**** An airport checked bag service charge is applied along with any applicable overweight or oversize service charges. ( example: checked charge + overweight charge + oversized charge = Total Charge) The maximum length for any item is 84 inches.
Please Note:
All Seaborne counters are cashless. Visa, MasterCard, Discover, are alternative ways to pay.  Please plan accordingly when purchasing a ticket or baggage charge payments.
PETS
Seaborne Airlines will accept domestic cats, dogs and household birds for transportation in the passenger compartment and as cargo.
DELAYED BAGGAGE
In the unfortunate event your bags do get misplaced, please see the following information to help us retrieve your bag and get it to you as quickly as possible.
Email: guestrelations@silverairways.com
Remember to include in your email the following:  
Your name as it appears on your reservation
Reservation confirmation number