Seaborne Cares…We're Proud to Support Our Islands
Promotional Guidelines
Seaborne requires a written proposal for a promotion, sponsorship, or participation in an event submitted at least eight (8) weeks in advance of the start date of the program. Seaborne's primary objective for sponsorship/promotions is to generate sales. Therefore, Seaborne does not sponsor programs that do not give exposure in at least one market it services. Seaborne's secondary objective is to complement and enforce current corporate marketing strategies with a substantial amount of high-quality exposure.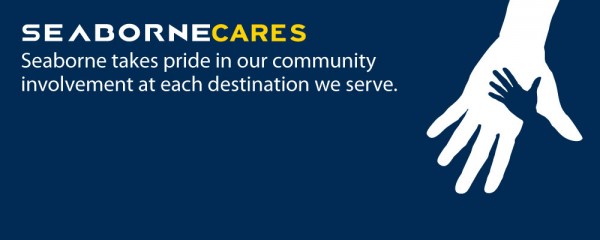 Target Audience
Seaborne Airlines primary target is adults 25-54 who travel frequently on business.
Sponsorship Objectives/Guidelines
As a sponsor, Seaborne requires the audience to not only know that we are a sponsor, but also to learn something about Seaborne and its services. Seaborne prefers to participate in sponsorships and promotions that use advertising media like TV, radio, newspapers,magazines and direct mail. We require ample time and space to deliver a specific strategic or sales message. Therefore, Seaborne prefers to have its logo/name be accompanied by an image of an airplane and a specific tag line/graphic. Seaborne Airlines enjoys high brand-name recognition. Just logo or name exposure has little value to us. We will not participate if the only mention is "transportation provided by Seaborne Airlines". We will not participate in a program if point-of-purchase materials, banners, posters or other display material is the only or principal advertising vehicle. We prefer to have actual media advertising as part of the sponsorship package. For example, Seaborne is able to show its own broadcast commercials or its own signage at an event venue rather than just being included on the sponsorship's promotional materials. Seaborne expects that no other companies providing passenger air travel will be associated with the sponsorship.
Seaborne will not participate in programs that are tied to any type of motorsports,tobacco, alcohol, or directly tied to politics or religion.
Promotional/Sponsorship Elements
What we typically find valuable:
• Media Value: TV, radio, newspaper, magazines, and outdoor advertising
• Promotional Elements: direct marketing, program ads, signage, display booths, collateral material
• Client Entertainment Elements: Tickets/tables to events, meals and hotel rooms
Event Sponsorship
• Please explain how Seaborne will be promoted as part of this sponsorship
• Is it local, regional or national?
• City/Country where event will take place
• Name of Event
• Date(s)
• Other sponsors
• Number of people expected to attend
• Name of Charity if applicable
• Brief Description of Event
• What do you want Seaborne Airlines to provide?
• What is the specific use of requested tickets?
• What are the face values of any client entertainment elements and program ads?
• Target Audience
• What media advertising will be provided?
Ready to submit a proposal?
• Have you read through the guidelines above and determined that your promotion request is indeed eligible for review by SEABORNE AIRLINES?
• Do you have the required information on-hand and ready to submit?
If you answered yes to each question, you are invited to register below.
Quarterly Deadline Dates for Online Submission:
Quarter 1: December 1-15
Quarter 2: March 1-15
Quarter 3: June 1-15
Quarter 4: September 1-15
There are no roll-over submissions. A non-profit Tax ID number is required to apply.  To assist with airport charges, ticket awards will be subject to the airport charges of $25 per ticket.  These charges must be paid prior to receipt of tickets.
For Donation Requests: sbacares@seaborneairlines.com