Seaborne flies to St. Thomas, the capital of the U.S. Virgin Islands. St. Thomas is world-famous for its bustling harbor of Charlotte Amalie. One of the most active cruise ship ports in the Caribbean, downtown Charlotte Amalie is the hub of duty-free shopping, especially for jewelry, electronics and fashion- all at unbelievable prices.
But there is so much more to St. Thomas than its busy harbor. A lively restaurant and nightlife scene promises to thrill you, as well as the scenic overlooks throughout the island that offer spectacular views of the surrounding islands of Water Island, St. John, and the British Virgin Islands. St. Thomas is the capital of the US Virgin Islands and government employees frequently use the Seaborne seaplane and airport service to get to and from the St. Thomas district to St. Croix.
Seaplane Flights (St. Croix / St. Thomas only)
A vital part of St. Thomas' transportation infrastructure, the Seaborne seaplane gives travelers a thrilling, fast, convenient, and unique way to connect between St. Croix and St. Thomas. The flights are only 25 minutes from "downtown to downtown". A popular choice for business professionals and individual island-hoppers, the seaplane may be the highlight of your Virgin Islands visit. There are more than 30 flights a day on the seaplane. When you arrive, you are in the heart of downtown Charlotte Amalie, where a short walk down the waterfront will connect you to everything downtown has to offer. The seaplane is located close to restaurants, hotels, shopping and ferry service to St. John and the British Virgin Islands.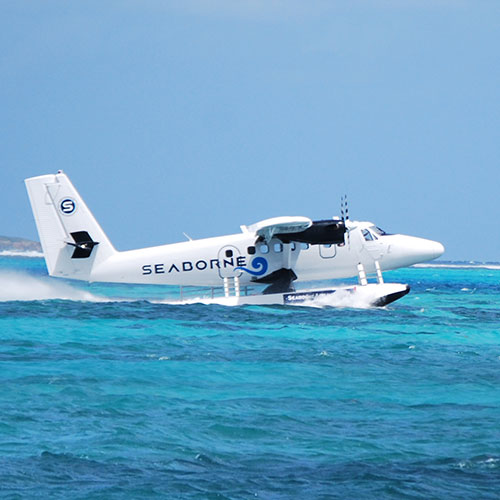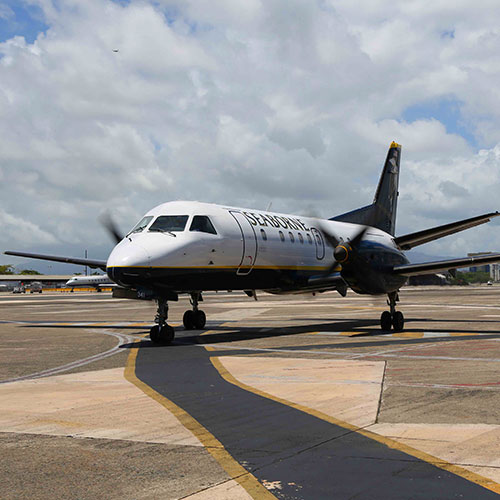 Airport Flights (St. Thomas, San Juan)
Seaborne Airlines operates its airport service operations from the Cyril E. King Airport. The airport is located approximately 5 miles from Charlotte Amalie and 10 miles from Red Hook. Our airport service flies to St. Croix and San Juan making travel easy for connections throughout the Caribbean.