Welcome to St. Croix—the largest of the U.S. Virgin Islands.   St. Croix offers a diverse experience for travelers looking for a destination that is surprisingly un-commercialized.   With two picturesque towns, both lined with historic European architectural details, waterfront promenades and dazzling shops and restaurants, St. Croix delivers on relaxed charm.   Blessed with several National Parks, National Historic Sites, and ecological gems protected by the U.S. Fish and Wildlife Service, St. Croix is a green-friendly destination that appeals to outdoor adventure seekers.   But don't let the laid back pace fool you.   St. Croix's industry is world-class, St. Croix is also known for its most famous export:   Cruzan Rum, made on St. Croix for over a century and Diageo USVI, distiller of Captain Morgan Rum.
Seaplane Flights (St. Croix / St. Thomas only)
A vital part of St. Croix's transportation infrastructure, the Seaborne seaplane gives travelers a thrilling, fast, convenient, and unique way to connect between St. Thomas and St. Croix. The flights are only 25 minutes from "downtown to downtown".   A popular choice for business professionals and individual island-hoppers, the seaplane may be the highlight of your Virgin Islands visit.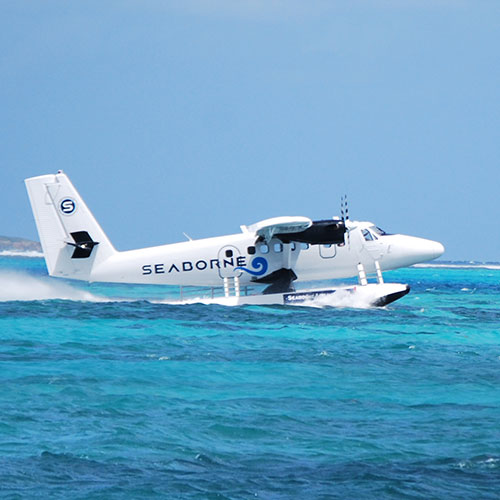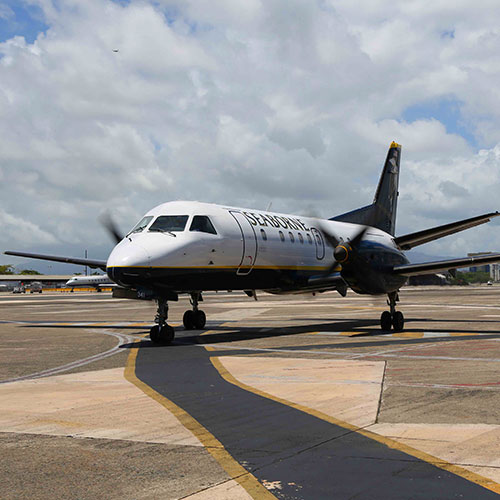 Airport Flights (St. Croix, San Juan)
Daily flights to/from St. Thomas as well as to San Juan, Puerto Rico operate from St. Croix's Henry E. Rohlsen Airport, centrally located on the island, making your travel from the airport to hotels, attractions and business appointments anywhere on St. Croix only 15-20 minutes away. Our airport service flies to St. Croix and San Juan making travel easy for connections throughout the Caribbean.